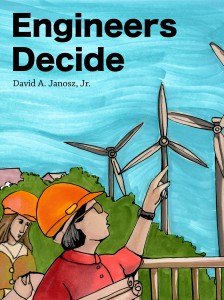 I wrote Engineers Decide because I want every young person to be able to envision himself or herself doing engineering. I know that most will not become engineers, but too many children never even see the possibility.
I originally wrote the book in 2008, which is about the time my oldest child was old enough to have picture books read to him. Immediately, I noticed a large disparity between the number of books that are available about people that work in a limited few professions such as firefighters, artists, and athletes, and those that were about more prevalent professions. At that time, I found no children's books related to engineering, one of the world's most popular professions. Since that time, thankfully, a few self-published titles have emerged, such as Engineering the ABC's written by my friend Patty O'Brien Novak.
So, I set out and made dozens of notes about things that engineers do. I went on to note ideas that put those things into some context that I thought children could understand and relate to. For example, a thought about engineers that work on machines became a page about engineers that work on machines that make something that is fun and familiar to all children such as crayons.
Upon completing the original manuscript, I put a package together and sent a proposal to dozens of publishers. I received but one response to say that the idea had merit, but the book just wasn't right for their company. Now that the book was nowhere other than in a few dozen publisher's slush piles, I was more than discouraged. But, in January 2012 things started to look positive again when I learned of Apple's release of free iBooks Author software. Since I have some background in design and page layout software, I figured I might be able to pull off self-publishing the title without having to put out over ten-thousand dollars to fund a print run. I was also very intrigued by the fact that the iBooks format offered interactive multimedia features.
I went ahead and contacted the artist that I had hired to do some drawings for my first publishing attempt, Diana Chelaru. Diana made the drawings into beautifully colored panels while I searched online stock photo and video databases for the multimedia elements. With a few hundred hours invested into the endeavor, my dream became reality when the iBook was released in the iBookstore on July 17, 2013.
Here is the original description:
Awaken the young engineer within your student or child! Ideal for ages five through ten, Engineers Decide explains that engineering isn't about "things" but about individuals, inspired to bring forth the discoveries that will change our world. By instilling the joy of designing the future – whether as part of a team or working solo – Engineers Decide ignites children's curiosity to the wonders of applying their imagination to meet fresh challenges. Engineers deciding upon solutions for product development, as well as all sorts of inventions familiar to children, are described simply and depicted with colorful artwork. And photos show children actively participating in the adventure of discovering next-generation technology. Filled with interactive graphics and videos, Engineers Decide stirs tomorrow's engineers to realize their potential by exploring this exciting field.
Thus far, Engineers Decide is only available as an iBook for the iPad. Please use this link to download from the iBookstore.
If you represent a group of educators or an engineering professional society, I would be happy to work with you on a free promotional offer for your school or group. Please feel free to contact me at dave@teachingenuity.com with regard to that or any feedback you may have about the book.